Cookies.
This site uses only very limited cookies. By continuing to use this site, you are opting-in to have cookies. To see what we use or to opt out, visit our
cookies page
An opportunity to become a tourist guide in Canterbury
Canterbury Guided Tours are delighted to be holding a Green Badge Course, starting in October 2024. It will take place in the city on Wednesday evenings and Saturday mornings, and lead to a professional qualification as a Canterbury Green Badge City Guide accredited by the
Institute of Tourist Guiding
.
What can I expect during the course?
You will attend taught sessions every Wednesday evening, plus visits to local attractions and practice walks on Saturday mornings.
Tutors are a team of very experienced current Blue and Green Badge Guides committed to maintaining a positive and supportive atmosphere throughout. Administrative help will be available at all times through our office which will provide timetables, syllabus, notes and coursebook. We are aiming for a class of 21 students who will work collaboratively.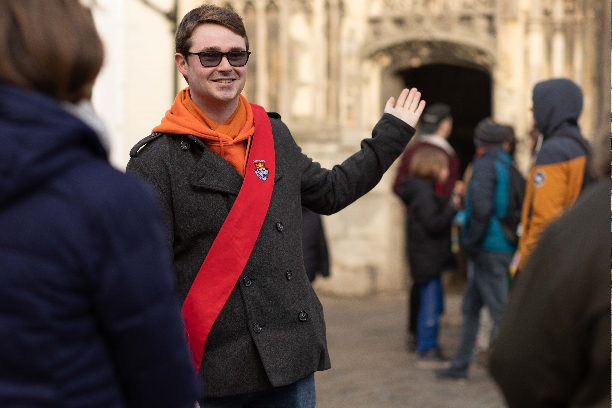 What does my commitment need to be?
The course will take place between October 2024 and April 2025, when examinations take place. Attendance will be for 20 two hour sessions on Wednesday evenings. You would also need to make yourself available for practice sessions on most Saturday mornings. The course will cover all aspects of Canterbury's landscape and heritage but you do not need any prior knowledge - just a willingness to learn and an interest in the city. There will be a requirement for self-study and a need to prepare for practical and written exams, in addition to coursework, all of which are externally assessed by the Institute of Tourist Guiding (ITG).
What are the course objectives?
To provide a Green Badge qualification for those wishing to offer flexible route tours on foot within the city of Canterbury, including inside the city's visitor attractions (where permitted) to groups and individuals.
To develop a range of communication skills which will enable successful candidates to meet the visitors' needs and prepare them for the effective execution of scheduled and pre-booked group tours offered by Canterbury Guided Tours (CGT).
To produce guides of the highest quality who meet the exacting standards of skills and knowledge required by the Institute of Tourist Guiding and Canterbury Guided Tours.
Canterbury Guided Tours run the official guided walking tours of Canterbury. We are proud to be the only tour company to include the Cathedral Precincts as part of our tours. The customer experience is at the heart of everything we do. We aim to offer flexible, tailored tours to the highest possible standard. Successful candidates that pass their exams will be offered membership of CGT, with the opportunity to take offered tours on a self-employed basis.

How much will it cost?
We have managed to keep the expense to a minimum whilst retaining high quality tutors. Examination fees are set by ITG. Total £1,353, broken down as follows: Registration: £150, Administration and Tuition: £565, Examination Fees: £638*. Payment can be made in two instalments. *Please note examination fees are to be confirmed.

How do I apply?
Please send a covering letter and CV to Jenny at guides@CanterburyGuidedTours.com. Your letter should detail why you are interested in becoming a Canterbury tour guide. You should also indicate in your letter if English is your mother tongue and let us know if you are interested in taking a further qualification to qualify to take tours in a foreign language. You will receive an acknowledgement of your application. Interviews will take place in the week beginning 15th January 2024 and will consist of an informal chat, followed by a more formal interview with a panel of experienced guides. Offers of acceptance on the course will be sent to successful candidates within 28 days of the interview. If you wish to accept the offer, a deposit of £135 will be required.

<